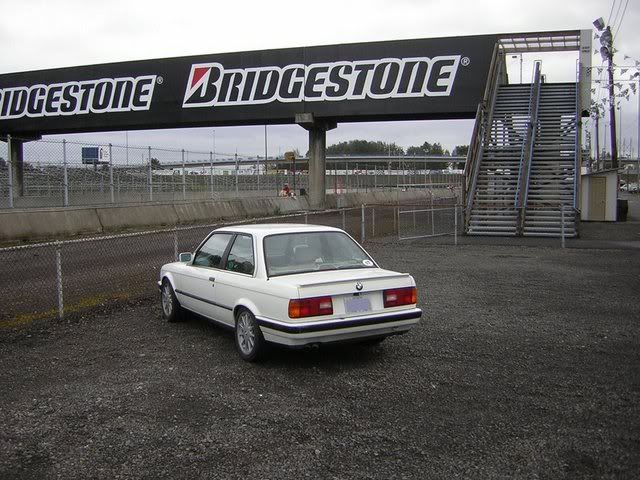 One day, my car will get onto the inside of Portland Int'l Raceway and see some action. Until then, it will wait with baited breath. Photo by Doug Bonham.


It's no secret at all that I love sports. And another fact for sports fans is that, oftentimes, what inspires a young man or woman to follow sports is a link from a parent - I'm partially a baseball fan because it came from my dad, just as my dad was a baseball fan because his dad was. For many Americans this comes for basketball, football, or baseball...not as often does it come up for auto racing.
There are two hobbies I've had for longer than I can literally remember: cars and auto racing, and video games. When I go to races now and see fathers with their little sons, who have great big earphones to protect their ears, I get both nostalgic and a little jealous - nostalgic, because I remember when that was me, and jealous because I wish I had that sweet ear protection back in the day; I just had ear plugs, which rarely worked (now, though, I go au natural. Ear plugs are for wusses).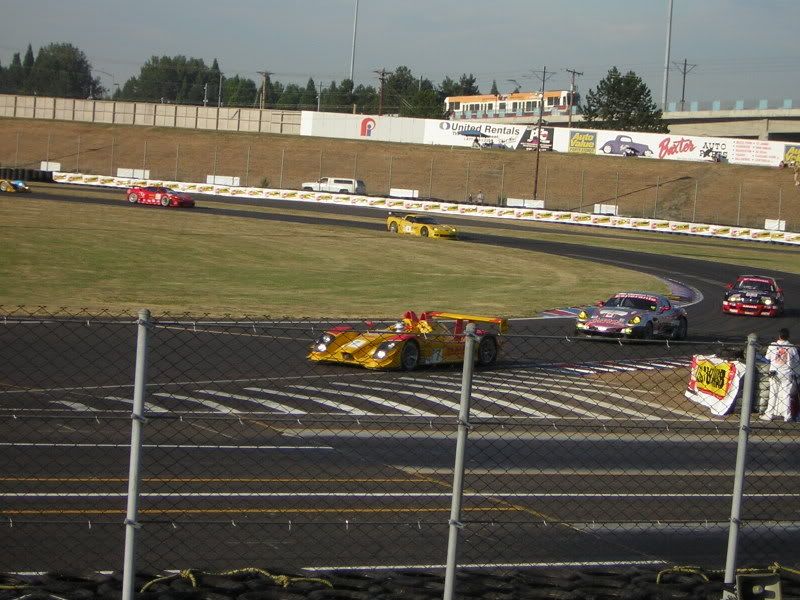 It was over 100 degrees, and a Saturday after a week of 100-degree days, but I still loved seeing the ALMS last year. Shame I was one of about 20 people there. Photo by Doug Bonham
As with many other aspects of my life, my relationship with auto racing rotates around an axis of love and hate. I love the American Le Mans Series and Champ Cars; I hate that they draw about as well as a Vanilla Ice cover band. I love following Formula 1 racing from around the world, but hate how much it costs: not only in even dreaming of traveling to a race, but in how much digital cable costs to receive the network that carries F1 in the US, SPEED Channel (strangely, it's on basic cable both on the Oregon coast and in the Columbia River Gorge; yes, both my grandparents have SPEED, while I don't. SHIT).
This means I turn into something of a junkie when it comes to watching actual racing on TV. I knew the Champ Car race was going to be on ESPN Sunday afternoon, but it started earlier than I thought it would; when my roommates (flipping between baseball, playoff basketball, and bad movies on TNT and Comedy Central) hit ESPN and the race, I went berserk. "LEAVE IT HERE" I almost screamed, foam spewing out and hitting the screen and my roommates.
of course they didn't understand. To them, and many of the uninitiated masses, auto racing is simple: how hard is it to drive a car around a track? Well, it's pretty damned difficult to do that for nearly two hours and do it
quickly
, but that's another argument. The aesthetics to watching racing are a bit more subtle; it's not as immediately rewarding, but watching a really good battle for position is as rewarding as anything else in sports. Much like with soccer, it's not the frequency of actual scoring (or passes) that matters, it's the build up: watching two drivers (or more sometimes) dicing for position before a decisive pass is attempted.
this is one of two legs upon which I stand and loathe NASCAR: passing is cheapened to the point where it is unrewarding and almost counter-productive to watch a full NASCAR race. The other leg is its horrible spread of commercialization; F1 handles their commercial side much better, while involving as many (if not more) blue-chip companies in the process. NASCAR is the carnival-caller mentality blown up ad naseum, which the NFL suffers from as well to a certain degree.
I still harbor dreams of doing some amateur SCCA autocrossing and light-caliber racing with my own car at a later date, but that's almost going to be another lifetime from now. Until then, though, I will follow auto racing with the eye of somebody mature enough to understand politics and savvy enough to understand the subtleties of the sport, while maintaining the wide-eyed youthful enthusiasm I've had ever since I first stepped foot at Portland International Raceway with my dad to see the Indy Cars.